Brussels
I felt great when I got here. I pretty much rested for a day or so. Two days later Ian took the class from Washburn he was teaching on a field trip to Brussels, so I went along. We took the train at about 7:30 in the morning, got there a couple hours later and started with a tour of the European Parliament.
The city is an incredible mix of old and new.

After the official tour, Nancy and Terry (a law prof. from Washburn and her partner) and Ian and I did a little sightseeing,




had a few beers,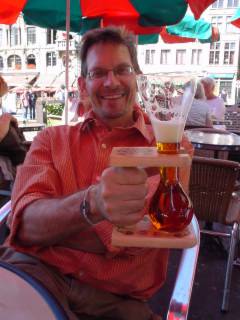 then had a mussel dinner (sorry - no pictures because you no how easily I get drunk...)

We got home a little after midnight.