The beach at Zandvoort
Eddie and I met, well, let's just say several years ago when we were both in in Wichita, Kansas, and leave it at that. He's been a dancer with
Pina Bausch Tanztheater Wuppertal
for about ten years now and lives in Wuppertal, Germany. Saturday, he came up to Utrecht with his girl-friend-for-a-day Sylvia, who he dances with. They took us to the sea for the day in their rented Italian car.
We started in Utrecht,

and ended up in Zandvoort.




Ian says that Zandvoort is where all the Germans go when they come to The Netherlands. I now say that at least the gay ones go there, but I'm getting ahead of myself...

It was a little chilly when we got there, but it was still the ocean, so the chill didn't phase us much. Well, I had to put toilet paper in my ears to keep my inner ears from freezing off, but what I mean to say is that other than that, the chill didn't phase us much.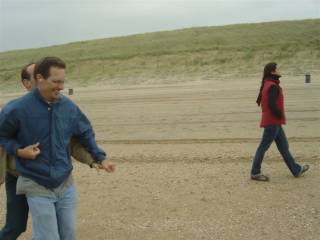 (Toilet paper in the ears - Click to enlarge...)

Even so, it was a really nice day.





While there, we saw something that is probably the rage on coasts - and lakes for that matter - the world over, but I'd never seen it before. It's kite-surfing, or something like that. We may have just made the name up, but it's what it is. You get on a board and have a big kite that works like a big sail and pulls you over the surf. The surf board you use costs 400 Euros alone, but more about that later.





We walked down the beach, Eddie taking us to a bar he knew.





Finally, I found out that further down the beach was not only a bar Eddie knew, but several. It was, Eddie said, a popular gay spot.





Given that summer's about over, we were the only ones there, but they did have nice hot chocolate.





Finally, we decided to head back down the beach.





It looked like it might storm eventually, but it was really beautiful.

We watched another kite surfer take off and make his way down the coast ahead of us.





After awhile, we about caught up with him again. Although his kite was still alof, it looked as though he had lost his board. He came out of the sea and dropped the kite. He started looking up and down the beach, and sure enough, he came over and asked if we had seen his small board. That's when we learned what thay cost. I think he was a little bummed.





We headed on down the beach, happy that we hadn't just lost a little piece of fiberglass wood that cost around $500.00.





We left the beach shortly thereafter, but not before Ian left some very important, yet cryptic, numbers on the beach...



1.23.4.5

Next stop - Haarlem. There, we visited a coffeeshop that Eddie knew about.





Eddie and Sylvia dropped us off at home, then headed back to Germany. We were all exhausted, but Ian and I had a really great time. We went to bed, and before we knew it, it was Sunday morning and time for our next adventure.





But that's another blog...
Labels: The Netherlands, travel