More pictures from work
I spent my Thanksgiving at work, along with the rest of the people who work in this country. No holiday here.
Ian's in Belgium at a conference, so when I finished for the day I came home to a very nice bottle of wine and a microwave-in-four-minute-meal.


It was really cold this morning - the bridges were frosted over on the way to work. It was also very foggy. Remember this picture of the view from my office window?




Today, it looked like this: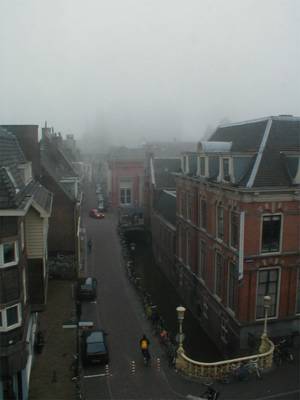 As I was taking this picture, I suddenly realized I have a corner office. That obviously doesn't mean the same thing to the Dutch it means to Americans or I wouldn't have one. I still like it, though.
Until today I hadn't thought about exactly where in the building the office was, if you looked at it from the outside. The stairs confuse me, and there are twists and turns to get to where I work. Anyway, today I thought about it. See the windows the arrows point to? That's me. Up in the tower. And no, I absolutely will not answer to Rapunzel.




I'm not sure who picked the interior colors of the office, but it wasn't a gay man. At least not one my age. It's all so . . . Swedish, or something. I've seen this color a lot over here. It's usually complemented by cantelope orange.



And finally, I had my camera with me, so I took a picture of this bike. Luckily not mine. I've never actually seen anyone in the act of putting a bike over a bridge, but I've seen lots of bikes hanging precariously from the bridges. I think it must happen at night...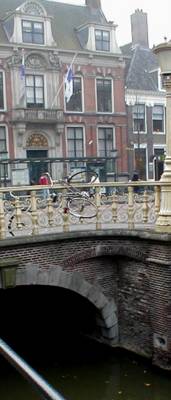 I hope those of you who remembered it was Thanksgiving today all had a happy one.

Labels: Work